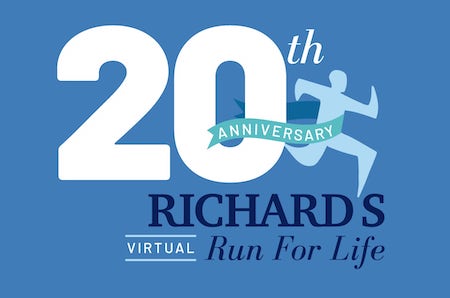 Richard's Run Nov. 5, 2021
Registration is open for the 20th Annual "Richard's Run for Life," this year a virtual 5K. Participants can run, jog or walk while step by step helping researchers at Moffitt Cancer Center find a cure for cancer.
Because of a recent spike in local COVID cases, the Columbia Restaurant Group opted to make this year's 20th anniversary run a virtual event again. Participants will have the option to run (or walk) a 5K on their own time. No crowds and no parking or weather challenges. Instead of the normal after-party, each registrant will receive a $25 gift certificate redeemable at the Columbia Restaurant, Casa Santo Stefano or Ulele donated by the Columbia Restaurant Group.
100 percent of every dollar donated and raised will fund the brachytherapy suite being built at Moffitt Cancer Center. Brachytherapy treats prostate, cervical, breast and sarcoma cancers. This new suite effectively will double the number of patients who can be treated.
"Richard's Run for Life" has raised more than $1.6 million in the first 19 years of this event.
The all-ages entry fee is $35 per person via online registration now through Nov. 30, 2021. Visit https://raceroster.com/events/2021/50886/richards-run-for-life-virtual-5k to register. The $25 gift certificate will be mailed soon after registration. Registrants also have the option on the site to purchase a long-sleeved Dri-Fit run shirt for $20. The shirt will be mailed in mid-December.
As a participant, you can complete the 3.1 miles wherever and whenever you choose, anytime from the start of registration through the end of November. You also will have the option to submit your time to the Race Roster website between Nov. 1 – 31. Everyone is a winner!
"Richard's Run for Life" 5K Race is part of the Gonzmart Family Foundation — a 501(c)(3) non-profit organization.

Each year the Tampa Bay community gets together to run through the streets of Tampa's historic Ybor City
W hen you are inspired by some great purpose, some extraordinary project, all your thoughts break their bounds. Dormant forces, faculties and talents become alive, and you discover yourself to be a greater person by far than you ever dreamed yourself to be.

- Patanjali

This quote was a great motivator for me and still is. Using my experience as a runner and my desire to find a cure for cancer I created "Richard's Run for Life" under the Gonzmart Family Foundation, a 501(c)(3) non-profit organization dedicated to raising funds to find a cure for cancer. Creating Richard's Run was a way to fulfill this goal of finding a cure.

- Richard Gonzmart